Come celebrate the Air Force 1's 35th anniversary with our very special pop-up experience. You'll find unique customization options like one-of-a-kind dip-dyed colors, stamped printing at selected locations, animal print and metallic swooshes, custom engraving and much, much more.
Chicago
Michigan Avenue
January 12-14
312.464.1515 ext. 1547


L.A.
Century City
January 12-14
424.204.1177 ext. 1547


Toronto
Eaton Centre
January 19-21
416.552.2900 ext. 1547


Vancouver, B.C. 
Pacific Centre
January 19-21 
604.699.2100 ext. 1547
Space is limited. To schedule your appointment, please call or stop by the Nordstrom x Nike boutique today.


First come, first served, while supplies last. Please see a salesperson for details.
Celebrate the 35th anniversary of the iconic AF-1 with three fancy-fresh looks curated by our mega-pro stylists.
Pay homage to the athletic AF-1 by rocking a sports bra with classically structured layers.
Think high contrast in an extra-festive dress like this mini beaded number.
If you're feelin' pants, go for bold, statement-making cuts and plush textures.
We got to talk inspiration, new-year rituals and more with the French-born neuroscientist-turned-photog of Fresh Flex. Now at home in the PNW, the mad-talented Insixiengmay mostly makes images of other humans with a focus on mood and expression, and works closely with her friends at Seattle's Fainting Room Collective.

You're a retired neuroscientist (!!!) — tell us about your transition from neuroscience to photography. 
My parents are immigrants—my father had to flee his home when he was young—so there was no way their daughter was going to study art. But when I was eight or nine, my great-uncle gifted me a camera and it triggered what I began to consider my double life: "get a real job; make art on your own time." Since my undergraduate school didn't offer photography as a major, I added those classes in anywhere I could.
I chose neuroscience as a career path because I've always been into science (I spent my summers at nerd camp). But after working for a year, I realized the practice was very different than theory. I liked the big ideas and seeing how all the pieces fit together, but in practice—and with only a BA—science felt minute and slow-moving. Maybe even wildly boring to me? That said, I have no regrets about spending so many years pursuing it.


How do you think that background impacts the way you create images?
It taught me critical thinking skills and helped me break down big pictures into small details. I'm still deeply fascinated by how our physiology allows us to appreciate and create art. What is it about art that tickles our physiological fancy and draws us to it?  
Plus, my background in science absolutely drives my interest in the technical aspects of photography: lighting, equipment, breaking all the technical "rules" and doing things "wrong." I like to think of it as walking the edge between the technical and the visceral.


Who and/or what are your major sources of inspiration right now?
I love Lena C. Emery's work. Her use of color is delicious. Also, music; it helps me visualize a lot of things I can't quite explain.


What keeps you going when you hit creative dry spells?
When I'm feeling particularly out of ideas or inspiration, I like to spend time biking or climbing. The physical goals of biking up a hill or finishing a route that scares me is pretty much the opposite of having to be creative or inspired. It helps me work through feelings of "failure" that arise when I may not have something ripe enough to turn into work yet. I also allow myself to get lost in other types of art; whether creating or enjoying, it helps break down blockages that might be there. I think it boils down to breaking down the pressure you put on yourself to create work. 


What's your go-to refresh method when you start a new year?
If possible, I love a little bit of travel early in the year. Being away from my day-to-day helps reset my priorities, gives me clarity on what I want to focus energy on, and, well, a little sunshine in January isn't so bad.


Is there anything you have to do in January? (Rituals, traditions, etc.) Or, alternatively, anything January (with all its newness and stuff) compels you to do? 
I love starting the new year by setting intentions, pulling some Tarot and having a little fire to let go of things I'd like to improve on in the next year. I've started to be more vocal about things I want to accomplish (alone and to myself), and weirdly enough, it seems to be working.

What's your favorite: 


City?
Paris.


Soundtrack?
Twin Peaks or my "HEY HEY HEY" playlist on Spotify.


Souvenir? 
A ring I picked up in Joshua Tree; it's got lots of good desert vibes.


Season? 
I love them all, but I'm way more awake in the summer.


Karaoke song?
"Psycho Killer" by the Talking Heads.


Wellness fix? 
The Dragon Slayer (tea, lemon, ginger, garlic, raw honey and as much cayenne as you can stand).
What's on your hello-2018 wish list?
See more of Manuela's work @manuelainsixiengmay.
The ones to follow right now; meet the ladies who help bring it all to life—the NxN girl squad.
First Nikes: 
A pair for track when I was in middle school.


Favorite midnight snack: 
Chocolate!


Best Netflix binge: 
The L Word or Black Mirror.


Current side hustle: 
I should get one…


Style vibe(s) in three words: 
Constantly removing lint (I wear a lot of black).
Favorite midnight snack:
Chocolate-covered almonds.


Best Netflix binge:
Shameless.


Current side hustle:
I like to make natural body scrubs and soaps.


Style vibe(s) in three words:
Comfortable, oversized, colorful.
Favorite midnight snack:
Chocolate.


Current side hustle:
I have a modeling agency in Ukraine, so that's my side job.


Style vibe(s) in three words:
Simple, comfortable, Nike.
First Nikes:
A white pair of Air Max 90s.


Favorite midnight snack:
Definitely crunchy rice rolls.


Best Netflix binge:
Family Guy.


Current side hustle:
Painting.


Style vibe(s) in three words:
Simple, sophisticated (with a touch of) eccentric.
First Nikes:
The OG Stefan Janoskis.


Favorite midnight snack:
Unsalted tiny twist pretzels and hummus, or raspberries—if they're in season. Also: string cheese.


Best Netflix binge:
Frasier, always.


Current side hustle:
I have more than one steady hustle, so, technically, I guess you could say all my hustles are side hustles.


Style vibe(s) in three words:
Boy meets girl.
First Nikes:
Air Max (many of those).


Favorite midnight snack:
Hot dogs.


Best Netflix binge:
Friends.


Current side hustle:
My side hustle has become my main hustle now: I'm about to direct my first feature film after directing a couple of shorts, including Sound of Sun starring Suki Waterhouse and Sean Penn.


Style vibe(s) in three words:
Boss, Parisian, Dietrich.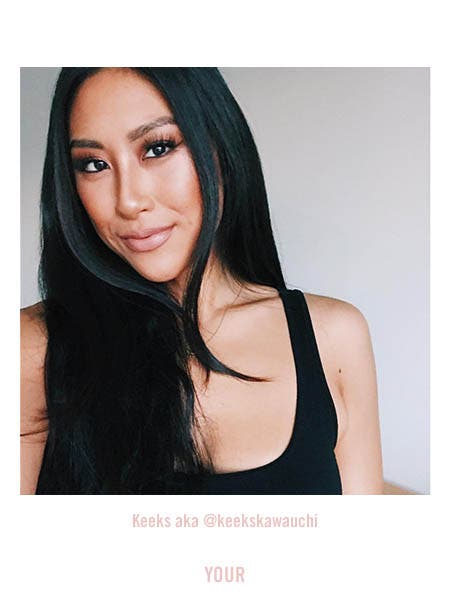 First Nikes:
Frees... But I used to not really enjoy shoes, or socks... I think I was a flip-flop girl. *Insert flip-flop sounds*


Favorite midnight snack:
Flamin' Hot Cheetos with Lime. Don't forget the lime.


Best Netflix binge:
Bridget Jones's Diary, baby! It's the perfect wind-down movie. She also embodies every girl; it doesn't matter how cool you are, ladies, we all have a Bridget in us—and that's reassuring, right?


Current side hustle:
I've always loved film photography; I haven't freelanced in a minute, but I like to carry it around with me when I'm hanging out with friends. It keeps me creatively stimulated.


Style vibe(s) in three words:
Cozy, sexy, tomboy... That doesn't flow, but kind of sums it up.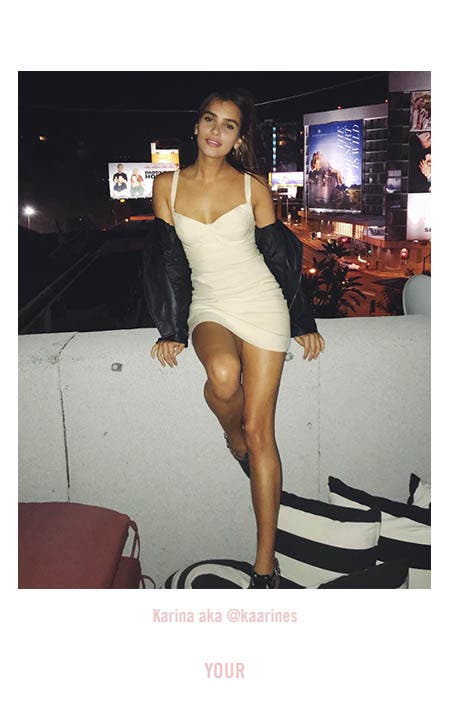 First Nikes:
My most recent Nikes are the Free RN Flyknit; they're my favorite shoes to run in.


Favorite midnight snack:
Cheese with a side of cheese.


Best Netflix binge:
30 Rock never fails me.


Current side hustle:
My baking blog (name drop: karinainthecocina.com).


Style vibe(s) in three words:
Effortless (aka lazy).
First Nikes:
White, low-top Air Force 1s.


Favorite midnight snack:
A big bowl of fruit.


Best Netflix binge:
The Office—I've seen every episode at least seven times.


Current side hustle:
I currently paint and sell watercolor portraits. I also curate art shows centered around the work of women of color.


Style vibe(s) in three words:
Experimental, colorful, comfortable.